History
Burg Ehrenfels is located on a protruding quartzite rock halfway up the hillside on the right bank of the River Rhine between Rüdesheim and Assmannshausen. There was already a tower on this site in the 12th century, belonging to Mainz's diocese since 983.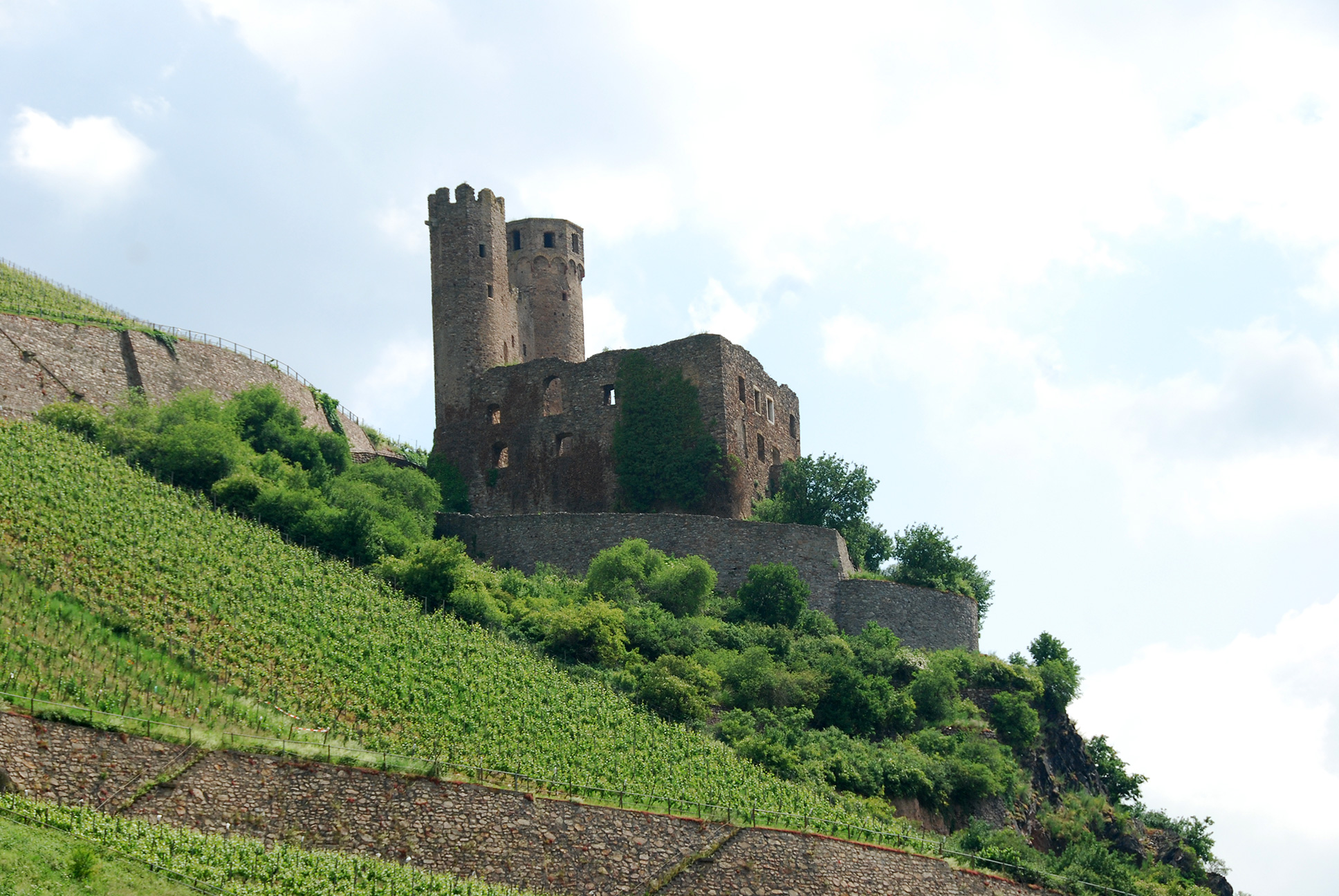 Philipp von Bolanden began to build the central castle in 1208 until he died in 1218, in the name of Archbishop Siegfried II of Mainz. His widow Beatrix completed the building in 1220. The castle was first mentioned in 1222 in documents from a court judgment that ordered the widow to hand over Burg Ehrenfels to Siegfried II due to the estate rights of the archbishop.
With the recognition of the toll rights by King Adolf in 1298, Burg Ehrenfels, with its bank fortification and supplemented by the Mäuseturm, began to collect toll duties from ships passing on the Rhine, which continued for centuries.
In 1350, the castle was enhanced by Kuno von Falkenstein, Catherdral provost of Mainz, who extended the central castle area. Further changes were made in the 15th and 16th centuries, which saw the raising of additional stories to the main castle and the addition of gardens, an outer ward, and a new ring wall.
The castle was occupied by imperial and Swedish soldiers during the Thirty Years' War (1618-1648) but survived without being destroyed. However, during the Palatinate War of Succession, it was occupied by Louis XIV troops in October of 1688, and when they withdrew in May of 1689, the castle was blown up and set on fire by the French and left in a ruinous state.
Since 1945, Burg Ehrenfels has been the property of the state of Hesse, which conducted extensive repair work to keep the ruin from decaying further.
Castle Highlights
The most impressive parts of the castle are the two round towers flanking the shield wall on the side of the castle facing the mountain. Circling walls enclose the great hall, courtyard buildings, and cistern on the river side of the castle.
Burg Ehrenfels is closed to the public, but you can walk up close to the castle along footpaths in the vineyards from Rüdesheim or Assmannshausen. I found it a worthwhile walk to see the castle's towers from behind the castle. The best views are from the River Rhine from one of the River tour boats.
If you choose to do the walk, it will take an hour or two. You can take a water ferry from Rüdesheim across to Bingen and visit Burg Rheinstein the same day should you want to see the inside of a Rhine Castle.