History
Burg Maus resides on a mountain spur overlooking the River Rhine above the town of Wellmich. Originally called St. Peterseck and later Burg Deuernburg (Thurnberg), the castle became known as Burg Maus due to the cat-and-mouse rivalry between the Catholic Church and the powerful counts of Katzenelnbogen who owned nearby Katz Castle (Burg Neukatzenelnbogen).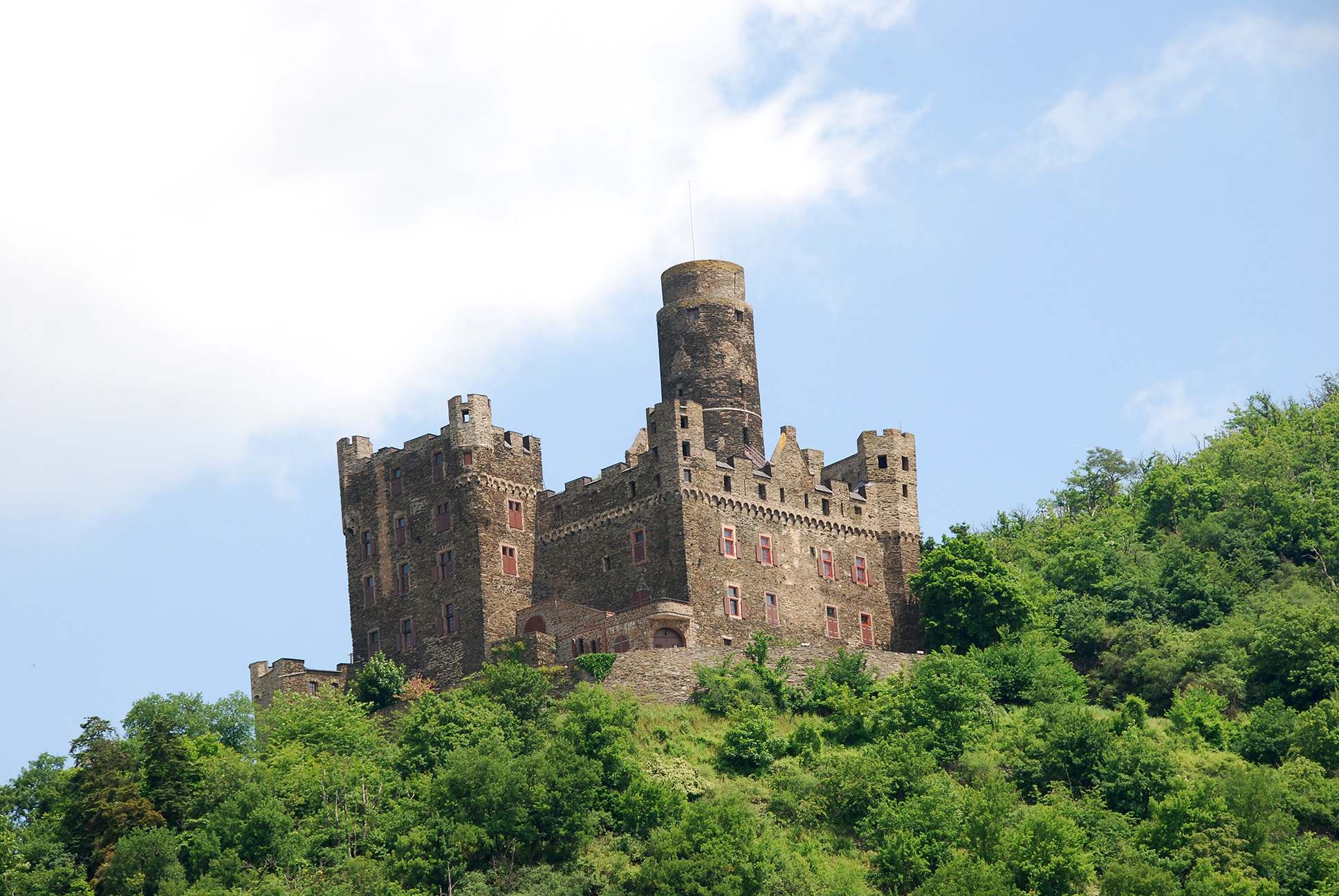 Construction of Burg Maus began in 1356 by Archbishop-Elector Bohemond II of Trier, who occasionally lived at the castle. Construction continued for 30 years by successive Electors of Trier. The original castle included a round tower, shield wall, residential building, and residential tower. The castle was built to enforce tolls on boat traffic along the River Rhine and to secure the land possessions of Trier on the right bank of the Rhine that bordered lands of the counts of Katzenelnbogen and their castles of Burg Katz further downriver and Burg Rheinfels directly across the river.
Bohemond's successor Kuno von Falkenstein completed the castle construction between 1362 and 1388 and extended the residential tower to add a fourth floor and corner turrets.
Unlike neighboring castles, Burg Maus was never destroyed but did fall into disrepair starting in the 16th and 17th centuries. By 1719, the castle was already described as being dilapidated and empty. At this time, the name Maus is handed down for the first time, in contrast to nearby Burg Katz.
In 1806 it was auctioned off for demolition and used as a quarry, but only partially demolished. Around 1900 it was bought by the architect Wilhelm Gärtner who restored the castle between 1900 and 1906 in great historical detail. Burg Maus also suffered damage during World War II when it took on shellfire and was subsequently repaired again after the war.
Castle Highlights
Today, the castle retains most of its original structure and design. The most prominent feature is the round tower built in the middle of the shield wall. The square residential tower with corner turrets dominated the west façade of the castle nearest the River Rhine and was used as the residence of the Archbishop. The castle also contained a private chapel along the southern wall.
The best views of the castle are from the opposite bank of the River Rhine or from the river itself if you partake in a river cruise.
Like its neighbor Burg Katz, Burg Maus is privately owned and not open to the public daily, but does occasionally host events which sometimes include guided tours. The Knights' Hall can also be rented for weddings, anniversaries, or conferences. Contact the castle for more information regarding booking availability and prices.