The Ghost Tower of Warwick Castle
Warwick Castle, which proudly displays more than 1,000 pieces of arms and armor in the Great Hall, possesses an extensive history spanning more than 1,000 years. Warwick Castle was associated with various historic events including the Norman conquest of England, Hundred Years' War between England and France, and the War of the Roses. Following the War of the Roses, a peaceful existence began at Warwick Castle. Moreover, it served as the home to the mighty Earls of Warwick.
With its rich history, Warwick Castle is the location of many ghostly legends.
As Richard Jones tells one such story ...
"For those who come to this epitome of English castles seeking encounters of a more spine-tingling nature, the 'Ghost Tower' is the place to visit. Sir Fulke Greville was granted Warwick Castle by King James I in 1604. At the time, the place had been unoccupied for 14 years and was in a ruinous condition. Fortunately, Greville, as well as a being a fine poet and playwright, was a rich and influential man, who slowly converted Warwick Castle into 'the most princely seat within the midlands part of this realm'. Greville served as Chancellor of the Exchequer from 1614 to 1621. He was later raised to the peerage as Baron Brooke, and then appointed Commissioner of the Treasury.
Seven years later, thoughts of his own mortality led Greville to draw up a will. He had never married and had no children, so he decided to make slight provision for his servant, Ralph Haywood. Haywood was not impressed with the paltry bequest and, in a fit of rage, stabbed his master while helping him dress at his house in London. It took the unfortunate Greville a month to die, his agony compounded by the surgeon's insistence on packing the wound with mutton fat.
He was brought back to Warwick Castle, and his tomb can still be seen in nearby St. Mary's Church. Greville's ghost returns to the castle to walk the room that was once his study. Here witnesses have reported catching fleeting glimpses of his sad shade staring at them from the dark corners, or feeling his presence at the place where he once composed such prophetic lines as:
If nature did not take delight in blood,
She would have made more easy ways to good."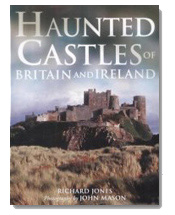 This ghost story was taken from the book "Haunted Castles of Britain and Ireland" by Richard Jones. We would like to thank Richard for graciously allowing us to use his text on Great Castles for some of the ghost stories presented on this site. You can find other stories by Mr. Jones on his web site, Haunted Britain.
About the Haunted Castles of Britain and Ireland book: Region by region, ghost-seeker Richard Jones reveals, explains and delights in the tales of tortured phantoms eager to restage their dark and turbulent pasts. The cast of characters ranges from ghostly queens that hurl themselves from the ramparts to malevolent monks that wander the corridors. This authoritative and accessible guide to haunted sites is illustrated throughout and includes extracts from original documents.