Ghosts of Sudeley Castle
Deep in the heart of Cotswolds resides Sudeley Castle. Its tranquil setting in a picturesque meadow has changed very little since the 16th century when the castle was sieged by Oliver Cromwell during the English Civil War. Sudeley Castle has a rich history including a period of time when it served as home to Queen Catherine Parr, the last wife of Henry VIII. Today, the castle is occupied by the living, as well as spirits of those who passed on long ago.
As Richard Jones tells the story …
"The castle was given to the king's brother, the Duke of Gloucester, later the infamous Richard III, and following his death at the Battle of Bosworth in 1485, was awarded to Jasper Tudor, the uncle of the new king, Henry VII. In 1537, Jane Seymour bore Henry VIII his longed-for son, Edward, and the king showed his gratitude by creating her younger brother, Thomas, Baron Seymour of Sudeley.
The unfortunate Jane, however, died shortly after giving birth. Henry VIII would marry a further three times, his last wife being Catherine Parr, who had already been courted by Thomas Seymour. Following Henry's death in 1547, Catherine Parr had accepted Thomas Seymour's marriage proposal.
The newlyweds moved into Sudeley Castle, where on August 30, 1548, Catherine gave birth to a daughter, Mary. The couple were overjoyed. But a week later, Catherine Parr died of puerperal fever and was buried in the castle's chapel of St. Mary. She was not to rest peacefully. After the Civil War over a century later, her grave lay neglected. In 1782, a farmer discovered it and, opening the lead casket, found the intact and uncorrupted body. Moments later, the cadaver crumbled into dust, and the terrified man hastily reburied the queen. She was finally reinterred in the new chapel in 1817, and there she now lies beneath a splendid Victorian effigy. Her daughter Mary simply disappeared from the pages of history, and her fate is unknown.
Catherine's ghost is still said to wander the cozy corridors of Sudeley Castle, and there have been frequent reports of a tall lady in a green dress seen around the castle nursery. Her appearances are often presaged by the faint smell of apple-scented perfume, and are occasionally accompanied by the heartrending sobs of a crying child.
Sudeley Castle passed to the Duke of Northumberland, who persuaded the dying Edward VI to name Lady Jane Grey as his successor, to keep the throne Protestant. But public opinion was against Lady Jane; she was queen for less than a fortnight before being succeeded by Mary Tudor. Northumberland's lands were confiscated; and several months after her brief reign, Lady Jane Grey was executed. Sudeley's days of glory were over, and after the Civil War it gradually fell into ruin.
In the 19th century, Sudeley Castle was restored to its former glory and today is the home of Lord and Lady Ashcombe and the Dent-Brocklehurst family.
Another restless wraith that haunts Sudeley is that of a 19th century housekeeper named Janet. This formidable Scottish lady took the virtues of her young housemaids very seriously and each night would sit at the top of the stairs leading to their sleeping quarters, armed with a feather duster to fend off the amorous approaches of the young menservants. Death has apparently not loosened her grip on her domain and several people ascending the stairs have reported encounters with her. A teenage girl, who one day strayed from her tour group, came face-to-face with the housekeeper on the upstairs landing. She became hysterical when the stern-faced apparition began waving her feather duster toward her in spectral rebuke."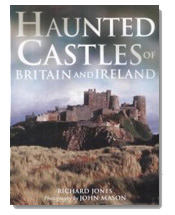 This ghost story was taken from the book "Haunted Castles of Britain and Ireland" by Richard Jones. We would like to thank Richard for graciously allowing us to use his text on Great Castles for some of the ghost stories presented on this site. You can find other stories by Mr. Jones on his web site, Haunted Britain.
About the Haunted Castles of Britain and Ireland book: Region by region, ghost-seeker Richard Jones reveals, explains and delights in the tales of tortured phantoms eager to restage their dark and turbulent pasts. The cast of characters ranges from ghostly queens that hurl themselves from the ramparts to malevolent monks that wander the corridors. This authoritative and accessible guide to haunted sites is illustrated throughout and includes extracts from original documents.