Ghost of Queen Isabella of Castle Rising Castle
Castle Rising Castle, located in Norfolk England, was built during the 12th century. Its central stone keep resides as the most prominent portion of the castle. The keep is located at the center of an inner bailey, which is accessed via remains of a gatehouse. Rather than stone walls, massive earthworks form the boundary of each bailey.
The castle is best known for serving as the home of Queen Isabella who lived there between 1330 and 1358. It is said her spirit still wanders through portions of the keep.
As Richard Jones tells the story ...
"The upper rooms are said to be haunted by the ghost of one of the castle's most notorious former residents – Queen Isabella, the 'she-wolf of France'.
As the former mistress of the power hungry Roger Mortimer, Isabella had been instrumental in the horrific murder of her husband, Edward II, in 1327. It is a widely held misconception that her son, Edward III, following the execution of Mortimer, imprisoned her at the castle in 1331. Nothing could be further from the truth. Not only did Isabella live in regal splendor here, but she was also free to move with her retinue between her various residences as befitted a lady of her social standing. Legend, however, states that this formidable woman sank into an old age that was racked by violent dementia, her last troubled years spent in the whitewashed rooms of the upper stories. She died at her castle in Hertford on August 23, 1358, and was buried in the monastery of the Greyfriars by Newgate in London.
The echoes of her last troubled years are still said to rebound through the corridors of the castle. Several visitors have been shocked by the sound of hysterical cackling around the top floor of the building. Residents in the nearby village have occasionally been disturbed by ghostly screams and maniacal laughter coming from the castle in the early hours of the morning."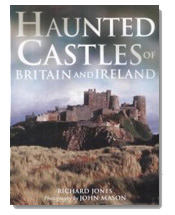 This ghost story was taken from the book "Haunted Castles of Britain and Ireland" by Richard Jones. We would like to thank Richard for graciously allowing us to use his text on Great Castles for some of the ghost stories presented on this site. You can find other stories by Mr. Jones on his web site, Haunted Britain.
About the Haunted Castles of Britain and Ireland book: Region by region, ghost-seeker Richard Jones reveals, explains and delights in the tales of tortured phantoms eager to restage their dark and turbulent pasts. The cast of characters ranges from ghostly queens that hurl themselves from the ramparts to malevolent monks that wander the corridors. This authoritative and accessible guide to haunted sites is illustrated throughout and includes extracts from original documents.