Ghost Monk of Pickering Castle
The ruins of Pickering Castle stand on the edge of the North Yorkshire Moors located in Northern England. The castle illustrates an outstanding example of a Norman motte and bailey castle even though only ruins remain today.
Originally, an earth and timber castle, Pickering Castle was built during the aftermath of the Norman invasion between 1069 and 1070 by the Normans per direction of William the Conqueror. The wooden architecture was replaced by stone in the early 12th century. Most of what remains today dates back to this time. Some of the towers still reside close to their original heights. Similar to Clifford's Tower in York and Helmsley Castle, Pickering makes good use of its earthworks to complement its stone fortifications.
While Pickering Castle was used to maintain control of Northern England as originally intended by William the Conqueror, it never really played a critical role in any of the British wars. Kings occasionally stayed at the castle for hunting trips, which took place in the surrounding forest. Despite its relatively peaceful existence, Pickering Castle resides as home to a ghostly inhabitant.
As Richard Jones tells the story ...
"The remains of Pickering Castle posses a unique atmosphere. The knowledge that there have been sightings of a robed monk, whose faceless form drifts across the grounds towards the ruined keep, his hands outstretched as though carrying some invisible item, does little to dispel the chilling aura that permeates the very walls of the building."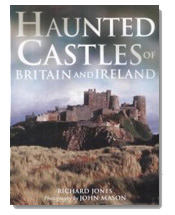 This ghost story was taken from the book "Haunted Castles of Britain and Ireland" by Richard Jones. We would like to thank Richard for graciously allowing us to use his text on Great Castles for some of the ghost stories presented on this site. You can find other stories by Mr. Jones on his web site, Haunted Britain.
About the Haunted Castles of Britain and Ireland book: Region by region, ghost-seeker Richard Jones reveals, explains and delights in the tales of tortured phantoms eager to restage their dark and turbulent pasts. The cast of characters ranges from ghostly queens that hurl themselves from the ramparts to malevolent monks that wander the corridors. This authoritative and accessible guide to haunted sites is illustrated throughout and includes extracts from original documents.