Haunted Chapel of Lincoln Castle
Lincoln Castle is located in the historic portion of Lincoln. Its construction began in 1068 upon orders by William the Conqueror. Demolition of 166 houses was necessary to build the castle.
The architecture of Lincoln Castle is different than most motte and bailey structures since it possesses two rather than one motte.
Lincoln Castle has served as a prison over the years with the Crown Court building being added in 1826. One of four original surviving copies of the Magna Carta may be seen in the former prison building of the castle. Due to its gloomy history regarding prisoners and executions, the castle still possesses lingering residents.
As Richard Jones tells the story ...
"From 1787 to 1878, the castle acted as Lincoln's prison, and its Victorian prison chapel is still acknowledged as being haunted. Its coffin-like pews were intended to remind prisoners of the fate awaiting them. Several people have encountered an unseen entity lurking in the tiny-tiered pews, and complain of feeling a cold breeze as an invisible 'something' brushes slowly by them."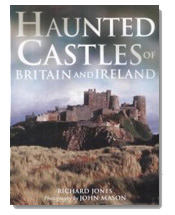 This ghost story was taken from the book "Haunted Castles of Britain and Ireland" by Richard Jones. We would like to thank Richard for graciously allowing us to use his text on Great Castles for some of the ghost stories presented on this site. You can find other stories by Mr. Jones on his web site, Haunted Britain.
About the Haunted Castles of Britain and Ireland book: Region by region, ghost-seeker Richard Jones reveals, explains and delights in the tales of tortured phantoms eager to restage their dark and turbulent pasts. The cast of characters ranges from ghostly queens that hurl themselves from the ramparts to malevolent monks that wander the corridors. This authoritative and accessible guide to haunted sites is illustrated throughout and includes extracts from original documents.