Black Dog of Leeds Castle
Leeds Castle is nestled in Southeast England between London and Dover. The current structure resides on two islands in the middle of a lake. There has been a castle on this site since the 9th century and Saxon times when it was known as Esledes. The first castle was made of timber and which was replaced by stone shortly after the Norman Conquest of England in 1066. Edward I, who was fond of the castle, made many improvements before giving the castle to his wife Queen Eleanor. It was also Edward who added the unique Gloriette, or D-shaped tower, on the second island whose walls seem to rise right out of the lake. Henry VIII was also found of the castle, making many additions to accommodate his entourage during a stay en route to France.
Leeds Castle has been a Norman stronghold, royal residence for six of England's medieval queens, palace for Henry VIII, and one of the loveliest castles in England. The castle has a very tranquil feel to it with its gardens and fairytale setting on the lake, but it does have a dark side for some of its occupants anyway.
As Richard Jones tells the story ...
"Continuously added to by successive owners, a good proportion of what survives today was built as recently as 1822. By this time, the old fortress had acquired the ghostly black dog, whose appearances often presaged bad luck, or even death, for the occupants. The dogs origins are said to lie in the demonic dabbling of Henry VI's aunt, Eleanor of Gloucester, who in 1431 was found guilty of practicing 'necromancy, witchcraft, heresy and treason', and was imprisoned at Leeds castle for life. Perhaps the hound results from some ancient spell which was cast by this formidable lady, and has lingered around the property ever since."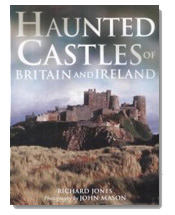 This ghost story was taken from the book "Haunted Castles of Britain and Ireland" by Richard Jones. We would like to thank Richard for graciously allowing us to use his text on Great Castles for some of the ghost stories presented on this site. You can find other stories by Mr. Jones on his web site, Haunted Britain.
About the Haunted Castles of Britain and Ireland book: Region by region, ghost-seeker Richard Jones reveals, explains and delights in the tales of tortured phantoms eager to restage their dark and turbulent pasts. The cast of characters ranges from ghostly queens that hurl themselves from the ramparts to malevolent monks that wander the corridors. This authoritative and accessible guide to haunted sites is illustrated throughout and includes extracts from original documents.