Ghostly Lovers of Goodrich Castle
Goodrich Castle, which overlooks the River Wye in Herefordshire, was built approximately 1086. While its architecture was fortified over the years, it currently resides as a majestic ruin. Most of its major upgrades occurred during the reign of King Edward I. Today, the castle exists with a gray colored Norman keep surrounded by a square shaped, red sandstone castle with drum-towers at its corners. Moreover, the castle resides over a natural dry moat.
The castle was home to the Earls of Shrewsbury during the 15th century, however, became unoccupied by the 16th century. Although long neglected, Goodrich Castle withstood the siege of 1646. This is where our ghost story begins.
As Richard Jones tells the story ...
"During the siege, Alice Birch, the niece of a Parliamentarian officer, took refuge in the castle with her Royalist lover, Charles Clifford. When it became apparent that the fortress would not be able to withstand the bombardment for much longer, Clifford and his young lover mounted his horse and, under cover of darkness, spurred the beast out of the castle and managed to break through the Roundhead ranks. Unfortunately, when they arrived at the muddy banks of the River Wye, they didn't realize that heavy rains had swollen its waters. As they attempted to cross the raging torrent, their horse lost its footing, and they were swept away to their deaths. Such was the trauma of their desperate bid for freedom that their bedraggled earthbound wraiths have been seen on stormy nights, urging a phantom horse into the wild waters of the River Wye. On other occasions, passersby late at night have seen their poignant specters staring sadly from the ruined ramparts."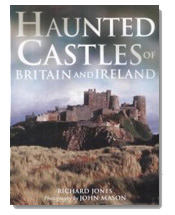 This ghost story was taken from the book "Haunted Castles of Britain and Ireland" by Richard Jones. We would like to thank Richard for graciously allowing us to use his text on Great Castles for some of the ghost stories presented on this site. You can find other stories by Mr. Jones on his web site, Haunted Britain.
About the Haunted Castles of Britain and Ireland book: Region by region, ghost-seeker Richard Jones reveals, explains and delights in the tales of tortured phantoms eager to restage their dark and turbulent pasts. The cast of characters ranges from ghostly queens that hurl themselves from the ramparts to malevolent monks that wander the corridors. This authoritative and accessible guide to haunted sites is illustrated throughout and includes extracts from original documents.