Sentry Ghost of Baconsthorpe Castle
In Norfolk England hidden away and nestled among farms and fields lay the ruins of Baconsthorpe Castle. The castle, which was built in the 15th century by the Heydon family, was constructed despite the lack of a required license to crenellate. Its most prominent feature is the massive gatehouse, which must be accessed via drawbridge to cross over a moat. The moat was excavated around three sides of the castle since the remaining east side was already protected by a lake. An outer gatehouse was added just to the south of the castle.
Baconsthorpe Castle, which was left in ruins after the English Civil War, currently resides as a peaceful place for a picnic. Its serene atmosphere is temporarily interrupted by the occasional family of bicycle riders stopping for a visit. But the castle ruins are still home to one.
As Richard Jones tells the story ...
"The sleepy ambience of the castle seems to have made it difficult for at least one former resident to leave. Many visitors have heard the sound of plopping, and on turning have discovered ripples radiating outward across the glassy surface of the moat. Looking up, they see a ghostly sentry standing on the walls, lobbing 'plum stones' into the otherwise peaceful water. Quite who he is, no one knows and since his spectral activity is undisruptive, witnesses are content to leave him to enjoy his harmless fun."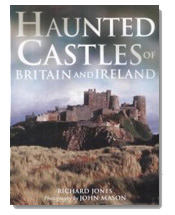 This ghost story was taken from the book "Haunted Castles of Britain and Ireland" by Richard Jones. We would like to thank Richard for graciously allowing us to use his text on Great Castles for some of the ghost stories presented on this site. You can find other stories by Mr. Jones on his web site, Haunted Britain.
About the Haunted Castles of Britain and Ireland book: Region by region, ghost-seeker Richard Jones reveals, explains and delights in the tales of tortured phantoms eager to restage their dark and turbulent pasts. The cast of characters ranges from ghostly queens that hurl themselves from the ramparts to malevolent monks that wander the corridors. This authoritative and accessible guide to haunted sites is illustrated throughout and includes extracts from original documents.